Last Updated on March 18, 2022 by
Electric bikes have not been around for that long yet they are currently seeing a boom in popularity. Not just in purchases but the number of rentals too for various amounts of time.
You could see this as an influx of trials as so many people want to see if an electric bike is for them so before investing in one, they take it for a test ride. Others simply want an electric bike for a certain timescale to cover a vacation or their first few weeks in a new city.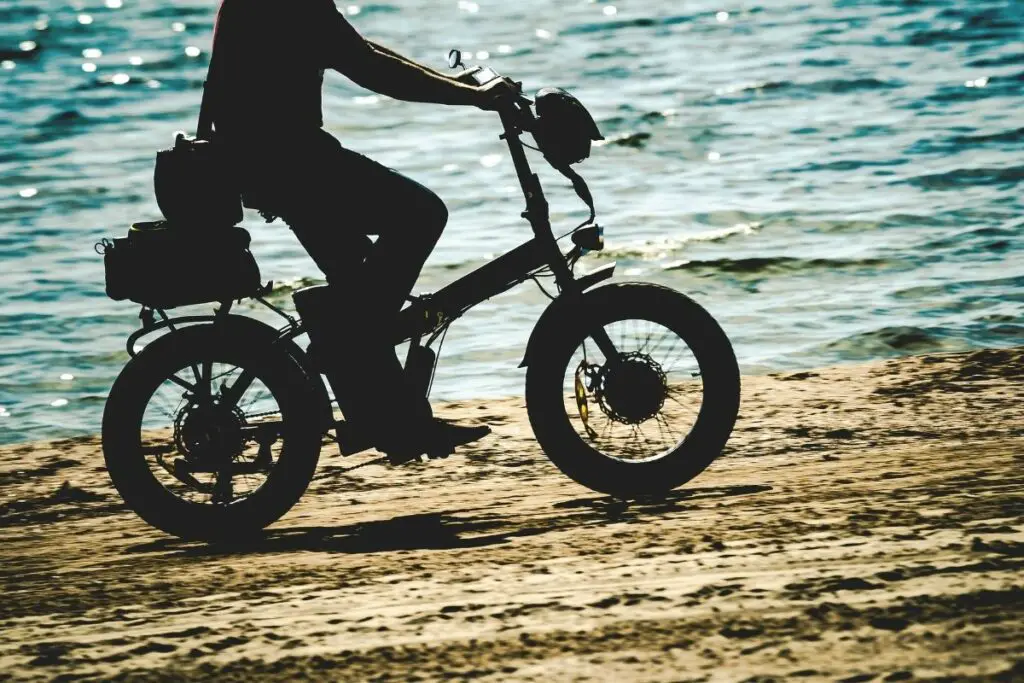 If you are used to renting and riding a bike in a new city then you should appreciate what an ideal way they are to get around. While you may want to try the public transport to reach the outer reaches of your new destination, a bike can help you see the city up close.
Then there is the fresh air to consider and the exercise you are doing on a constant basis to get around, until you click in the motor.
Just as you would rent a regular pedal bike, renting an electric bike is much the same though should be slightly more expensive. After all, the bikes are more expensive to build and you would be benefiting from some extra power when you need it.
The process of renting an electric bike may require some advance planning too. 
Monthly Electric Bike Rental
Should you really want to get to know what riding an electric bike can be like, or simply want one to get around a new city, then a month will be sufficient.
Maybe for a new job where you want to see the city through your own eyes and not through a windshield. When you can get a feel for the neighborhood, its smells, its inhabitants, and its traffic by traveling down its many streets. 
For the pleasure of renting an electric bike for an entire month, you are usually looking at upwards of $375. That may seem like a lot of money but compared to the overall cost and running of an electric bike it could seem fair based on how much you may save in taxis and public transport while still finding out if you want to buy one yourself.  
You can rent an electric bike for a shorter period of time. If you only needed it for an hour you can rent one for around $15 to $25, though for a premium model you would be looking at over $30.
Should you want one from morning to night then the price can go up to between $60 and $70, and over $120 for a premium model. Then there is the full 24 hours which can be upwards of $75 to $100 and over $150 for a premium model.
Are Electric Bikes Good For Losing Weight?
Riding a bike can help you burn up a significant amount of calories per hour while enjoying some fresh air and great scenery. An electric bike can let you pedal but also allow you to use a motor to give you a boost when you need it.
Even with the pedal-assist mode, you can burn around 450 calories per hour compared with a traditional pedal bike at 550 calories per hour. While it is less, you should still be able to feel the burn after a good hour-long ride.
While riding an electric bike can clearly help you lose weight and get fit, it is also the manner in which you do it too that should be of benefit. Cycling is considered a low-impact exercise that is relatively easy on the joints, unlike running which can cause sore knees and ankles.
With an electric bike, that impact can be reduced even further when you use the motor for some particularly brutal steep inclines. Unfortunately, you are likely to encounter a hill wherever you decide to cycle as well as the occasional headwind which can prove daunting on a traditional bike, so you should be grateful that you have the option of turning on the pedal-assist mode.
There is also the point to be made about how fun it is to ride a bike, plus you can carry your belongings which can prove really handy. From cruising along a street you would normally walk down to zooming across on a trail when the weather is blissful.
Renting a bike is a great way to see more of a location quicker while having the freedom to explore. The element of exercise is also crucial as most forms should be fun while simply the act of renting an electric bike should persuade you to go outside and enjoy it as much as you can.
Weekly Electric Bike Rental
Few people can truly forget how to ride a bike yet if you have not ridden one in a while, or certainly not an electric bike at all, you may want to trial one for a week.
That should be enough time to learn the basics again and by the end of the week you should find out if you want to own one outright. You may also be taller or smaller than most riders so learning how the adjustable settings can work for you may take a bit longer than a couple of days.
Also, a week is a good amount of time to get a feel for a particular model of electric bike. There are so many different models out there that you can slowly learn the differences between them then make a decision on which one you like the most.
Certain electric bikes that you can ride include the Raleigh Route IE, Rad Power Bikes Rad Mini Fat Bike, Rad Power Bikes Rad City, Specialized Turbo Como 3.0, and Trek's Electra Townie Go. These electric bikes vary in motor power (from 250W to 750W) and the range (from up to 30 miles to 100 miles). 
There are the tires to think about, not to mention the motors, throttles, and gear systems that each manufacturer has developed. Having the chance to ride one on your own terms instead of in a shop can also let you appreciate the full package that the electric bike provides. 
Renting an electric bike for a week is also a useful time to learn how to exercise with it. Try it out over some short, inner-city rides then work your way up to a long ride on the weekend.
Maybe incorporate some hills to really test the capabilities of that motor. If you are recovering from an injury or working your way to becoming physically active then renting an electric bike for a week is a good way of testing yourself.
The average cost for renting a bike for a week should be around $200-$300 and upwards of $300 if you were looking at a premium model. It is worth realizing that there is not a substantial difference in cost between renting a bike for two weeks and a month so you could opt for the monthly option if you knew you needed the bike for longer than anticipated.
If you truly cannot bear to be parted from your electric bike after a week then that is a notable sign that you should take the plunge and invest in buying one anyway. 
How Do Zoomo Bikes Work?
Like a lot of services such as coffee blends or shaving blades, you can now use a subscription to rent an electric bike. At the moment, Zoomo offers subscriptions to gig workers and couriers yet the Australian setup is gaining in investment.
The system works by paying a monthly subscription on their electric bikes instead of paying an upfront lump sum. 
Zoomo has fleets of electric bikes and also offers a weekly subscription that includes servicing and can cost between $20 to $39 per week. Their electric bikes and scooters are seen as an easier way to hit zero emissions by providing micromobility with vehicles on two wheels rather than four that can work for the long shifts that a courier is expected to complete.
With operations in the United States, as well as Australia and the United Kingdom, it is already looking to expand and may offer services to the general public in the near future. 
How Do Lime Bikes Work?
For a platform that combines electric scooter, pedal bikes, and electric bikes for rent, Lime really do know what they are doing. Their electric bike option is commonly known as Lime-E and each one can go at a speed of almost 15 MPH at a total range of up to 50 miles on a full charge.
Though their Lime-S scooters are more easily found, the company does operate in over 50 US cities. You will need to be at least 18 years of age to ride and have a driver's license to be eligible to ride an electric bike or scooter. 
When you are ready to rent, you first need to make sure you can find an electric bike locally by downloading the app then signing up for the service. Use the map on the home screen to find an electric bike nearby with enough charge for your proposed journey.
Then locate that specific electric bike in the real world, give it a quick look to check it is in good working condition then tap the 'Scan to Ride' option on the app while you scan the bike's QR code. The code will either be on the handlebars or behind the seat and if it fails to scan you can always manually enter the code. 
Riding a Lime electric bike is much the same as any other one. Make sure you wear a helmet and comply with the local traffic laws, check you are within the approved Ride Zones, then away you go. Once you are finished riding, locking the bike is easily done by pushing down the rear wheel lever until it makes a reassuringly certain sound. 
The cost is really affordable at only a single dollar to unlock then around 15c every minute you ride. However, those prices may vary across different cities they remain a really affordable option. You can also use a LimePass which acts as a weekly pass with a one-time $4.99 fee that operates in select markets. 
There is also the possibility of earning money by becoming a Lime charger, also known as a Lime Juicer. This option is for independent contractors who can earn up to $30 per hour simply by picking up, charging then re-distributing the electric scooters across certain cities. 
Electric Bike Rental Near Me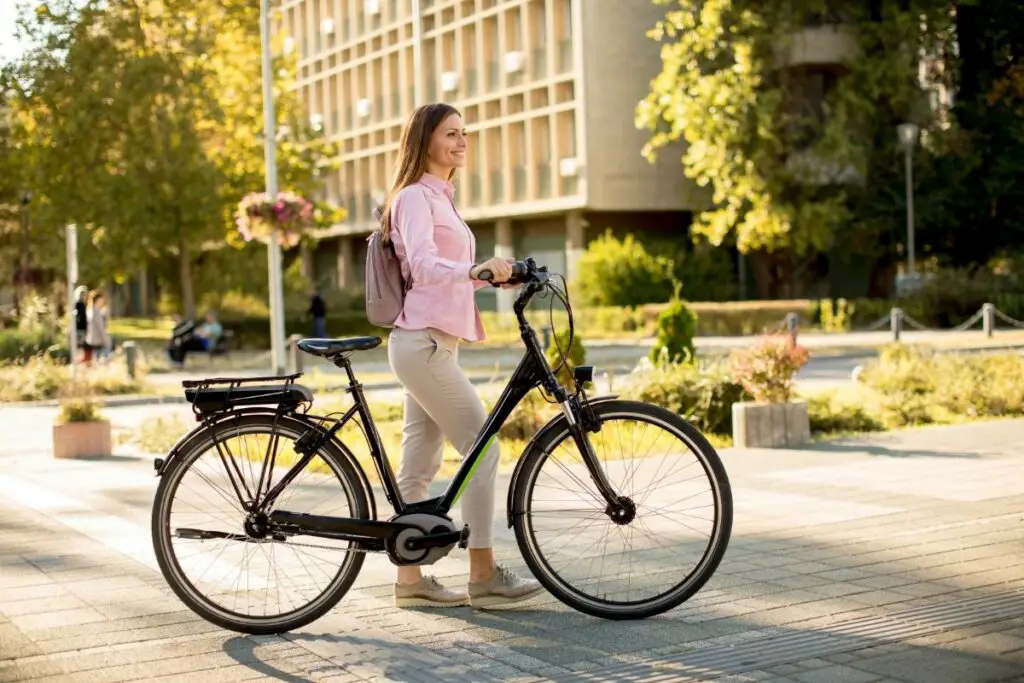 There should be several places locally where you can rent an electric bike in a lot of major cities. Your best option in any city could be finding a bike shop.
That may seem obvious but they can either rent you an electric bike themselves or recommend a local service that will let you do so. Then again, you can always search 'electric bike rentals near me' and let a web search provider do the hard work for you. 
There are certain questions you should ask once you have found a local service from which you can rent an electric bike. Firstly, whether you need to make a reservation or not, what is included in the rental fee, and whether you can ride on the sidewalks in the city.
More general questions can include what the local laws about riding an electric bike are and where the best places to ride in and out of the city are.
You should also ask about the electric bike itself before you take it away. Specifically, how fast it can go in MPH (or KPH) and how far it can go after a full battery charge.
If you can take a look at one of the electric bikes first you may want to find out how to use the throttle before you actually have to attempt to use it on the road. They may also be able to advise how you can keep the bike safe and secure when you are not riding it. 
Particular bike rental providers are specific to certain cities where you can rent a bike for around $20 an hour. For instance, in Santa Barbara, California there is Cal Coast Adventures, Wheel Fun Rentals operate from San Diego and then there is Bike and Roll which can be found in Central Park in New York City. 
How Long Do Electric Bikes Last?
Once you have rented an electric bike locally, you may be seriously considering buying one. If that is the case, you may be pleased to know that most electric bikes last for about a decade, though that may differ on the model.
If you do calculate the initial payment of buying an electric bike with the running costs and possible repairs, that could well turn out to be a sound investment depending on how much you use it. Especially when you consider the exercise and how much you can save on public transportation or a four-wheeled option, even with the regular maintenance.
Revel Electric Bike Rental
For an easy-to-use electric bike membership in New York City, then you really should consider Revel. Not only do they offer free delivery and return but they even take care of the repairs including flat tires, worn brakes, and those typical bits of wear and tear.
Their electric bikes go as far as 45 miles per charge and can go as fast as 20 MPH when you engage the eBike pedal assist. The company also offers 24-hour support whenever you need it. 
How Does Revel Charge?
Revel's subscription cost is also surprisingly affordable at $99 per month, plus tax. Once you consider that Revel takes care of the delivery, repairs, pick-up returns and that they provide the U-lock and battery charger, that seems great value.
Once you become a member of the subscription service, you can get a 70% discount on their FEND helmet which folds by 50% and has extra padding for a comfortable fit.
Final Thoughts
For the ideal way to trial an electric bike before buying one outright, you should consider renting one. There are several different timescales to consider; from an hour to a day, 24 hours, a week, and a month.
The costs differ between models and providers yet modern technology has made it even easier to rent one. Many providers have apps that make it easy to locate, reserve, return, and pay for your electric bike rental. 
When you decide to rent an electric bike, you are committing to riding one for the prescribed period of time. In that time, you should challenge yourself to see the city and ensure you try the motor, otherwise, you might as well rent a pedal bike.
Renting a bike is, not only a great option if you are on a vacation, but if you are arriving in a new city. While having the freedom to explore, you can get a feel for a place when you ride down its streets. 
Latest posts by Derek Bruce
(see all)